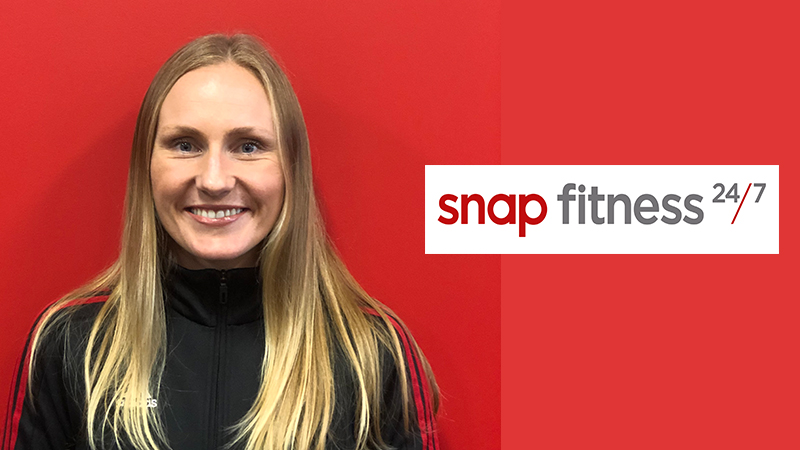 Meet the Retailer: Snap Fitness
We talked with Hilarie, Manager of Snap Fitness Ormiston, about her time in the health and wellness industry, what she loves about her job heading up the Snap Fitness team, and the challenges of exercising in lockdown.
While our minds have been mostly on food and baking treats the past few weeks, the team over at Snap Fitness Ormiston have kept us moving and in shape with their great home workout videos and daily motivational content. From discussing workouts and gym routines, to debunking fitness stereotypes and tackling first time gym nerves, read our interview with Hilarie below…
Q: Tell us about your background and how you came to be part of Snap Fitness?
I've worked in the health and wellness industry for nearly 15 years, so I've pretty much done it all!  I started out as a fitness instructor, then moved to personal training and opened my own personal training business. I thought I needed a change from Fitness so I branched out and started my own raw food & juice bar, before moving back to management roles for gyms in Australia. When COVID happened last year I moved back to NZ with my family, from there I found the management role at Snap Fitness Ormiston.
Q: What do your customers love best about Snap Fitness?
People love the club culture we've created and the high standard of service they can expect – from our top of the range gym gear to our amazing team of trainers and instructors. We've got something for everyone, from powerlifting training, to members that are new to exercise. We care about what everyone's goals are and what they're training for. Our team is awesome and we've got great morale which is important. We're all about positivity and how people feel when joining and working out with us.
Q: What has your lockdown fitness routine been looking like?
I've planned out a fitness routine for each day, so there's a bit of variety and gets me out of the house. Usually I will get up and start work at the same time, then go straight outside to do a walk or
run or my workout. We've been hosting classes online and I've been taking some of them which is fun to see everyone and workout together.
Q: What simple home workouts tips have you been suggesting to your clients/members?
Plan your workouts per week and try vary it up so you're not getting bored of your exercise. For example Mondays go for a run, Tuesdays a bike ride, Wednesdays do body weight sit
ups and crunches, Thursdays a long walk or yoga. You should also check out the online classes that our Snap Fitness Ormiston team have been running, there are lots of different classes and times that will fit in with your timetable.
Q: Any advice for lockdown exercise regimens?
I recommend trying to be active 3 times a week, remember 20 minutes is better than no minutes!
Q: How often should I be exercising or going to the gym?
I recommend trying to be active or going to the gym 3 times a week. Always remember 20 minutes is better than no minutes.
Q: What makes you smile at work?
Seeing all the members, welcoming them and having a bit of banter. We're all friends here!
Q: Do you have any gym tips or hacks?
If you're new or returning to exercise it's worth hiring a personal trainer for the first few sessions, encouraging you and providing a support system. They'll also help develop personal exercise routines so you can have a solid fitness plan, plus it will prevent injuries by having someone help you with techniques.
Q: How do I make exercise and fitness routines stick?
Don't overdo it when starting a new fitness and health kick. Each week make one change to your usual routines, rather than changing too much and burning out. Once you're comfortable with each change, then try something new like drinking more water or cutting down on sugar.
Q: Do you have any words of wisdom for people who are scared of joining the gym or who've never been?
Joining a gym can be very intimidating. Most of our members are new or just returning to exercise, they're everyday people wanting to get fit and be healthier. Drop all the preconceived ideas you might have about going to the gym, be brave and come in. We promise it will be a different experience than what you expected. Our members are friendly and the team is supportive. You'll be proud that you went and worked out, it will feel great!
Q: What food at Ormiston Town Centre do you love and are missing during lockdown?
I really like Tran's Kitchen, they've got great vegetarian options. I also really like WuCha drinks.
Snap Fitness is located on level 1. Enter the lobby off The Market Carpark (next to APNA Spice) and take the lift to level 1.  Visit their website for details.