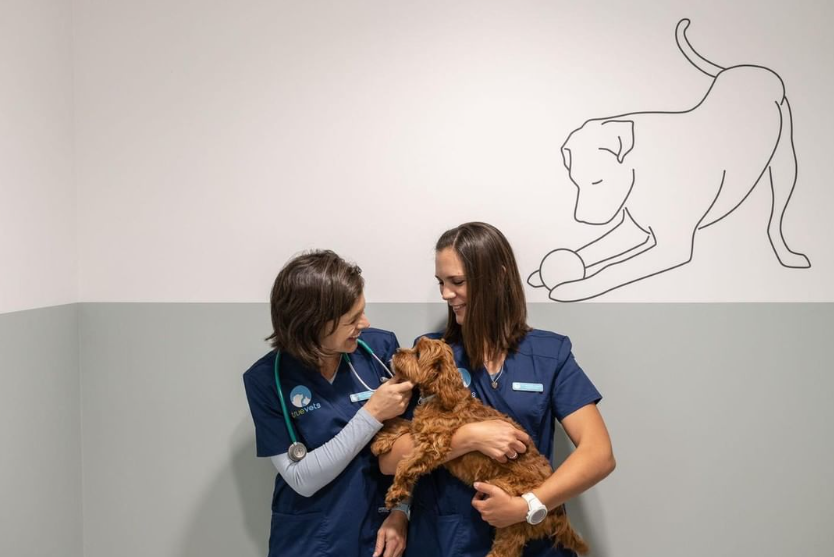 Meet The Vets: Dr Adri & Dr Jennifer from True Vets Ormiston
Looking after animals and their welfare means you have to be a special kind of person, Dr Jennifer Dauth and Dr Adri Rossouw, the duo behind True Vets Ormiston certainly are! We chatted to them about True Vets Ormiston, pets, and how they came to be a part of our Centre.
Read our interview to learn more, or better still stop in with your pet friend and say hi!
Q: Tell us about True Vets, how you came to be here at Ormiston Town Centre?
Dr Jennifer: We'd actually worked together at a previous practice, so starting True Vets Ormiston was a nice opportunity to do things our way. We both live reasonably close and we noticed that there wasn't a Veterinary clinic in Flat Bush or Ormiston.
Dr Adri: We are both very like-minded, we share the way we care about how people and animals should be treated. It made sense to work together and live out our vision, while it's not always easy to work alongside someone so closely, this is really easy!
Dr Jennifer: We are both experienced in our own special interests. Adri really enjoys ultrasonography. I like to do animal reproduction.
Q: What would you say is important to True Vets?
Dr. Jennifer: We try to be very open and welcoming, there's lots of natural light and we've tried to make the clinic soothing. We don't want this to feel or look like a hospital or clinic, it's important that there is a warm and home-y feel.
We've had a lot of people say that they feel comfortable just walking into True Vets, it isn't a stressful environment.
Dr Adri: It's all about family for me and True Vets Ormiston is a family business, we even have our kids' hands in the concrete! For our clients we want True Vets to be inclusive, we want people to come here as a family and see their kids' art hanging on the wall.
Q: What tips do you have for people bringing their animals in to a vet?
Dr Adri: Tip one is to calm yourself! Often the main part of the problem visiting the vet, is that the owner is stressed so the animal becomes anxious.
People forget that animals are really good at picking up our emotions, they can sense your nerves straight away.
We encourage owners to grab a cup of coffee and wander through the Centre while they wait for their pet's test or procedure to be done.
Dr Jennifer: Coming to the vet doesn't have to be a negative experience, help your pet be comfortable and familiar with the clinic surroundings when they're feeling healthy and happy; If you're taking the dog for a walk, stop in and say hi to us! Put them on the scale, let them meet the nurses and vets, then go. You can get into a pattern of making the trip to the vet positive. If you stop to buy dog food, bring your dog!
Q: How often should you bring your pets in for a well-being check-up?
Dr Adri – For younger animals getting a check-up once a year is fine. As pets get older, around 7 years, we try encourage people to bring their pets in twice a year as a lot can happen in a year.
Dr Jennifer – As your pet ages, we also recommend doing things like blood tests. This helps us to identify changes that owners sometimes don't notice or pick up on. Blood tests help show what the health of internal organs is like.
Dr Adri: It's nature's way to make animals hide their sickness so that they don't show weakness to predators.
While it's your pet's natural way of protecting themselves, this makes it hard to spot what's wrong. Blood tests and regular check-up's help show us if something is off.
Q: Do you have your own pets at home?
Dr Jennifer – Yes we do! I have two dogs, a Yorkie and a rescue dog, plus all my cows.
Dr Adri – We have a kitten, Vettie, short for 'Vet Cat' it's a special story as Vettie was our very first patient at True Vets Ormiston.
She came in the first day we opened the clinic, after being found in the area, hungry and tired. We looked after her, fed her and I brought her home to my family for us to keep as our own cat, we've had her ever since and she's now almost 6 months old.
Bringing her home wasn't up for negotiation, she's very loved and happy!